by John Lorenzo

Deputy Inspector
SIMPSON NEWSLETTER UPDATE # 1
Are you looking for some good free information?
Simpson Strong-Tie publishes a monthly newsletter that is free to sign up for and shows some pretty good tips, product updates, and installation info on their products.
This months newsletter shows us some new threaded rod hangers for things like fire sprinklers, etc. Looks like it could help make things a lot easier for those installations.
Another product that it talks about is a new post base. It wraps around and is attached to all four sides of a 4x4 or 6x6 post instead of just two. Simpson says that it will help resist twisting forces in a seismic or wind event. Looks like a great idea.I guess that Simpson Strong-Tie is reinvesting some of the $40.00 we are paying for a twin tube of SET XP epoxy back into research.
Lastly this month they show a video of their ATS Anchor Tie System.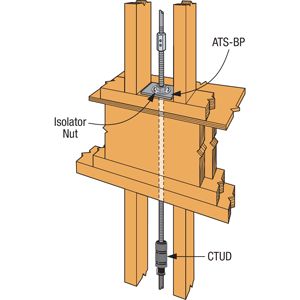 This is a hold down system that is connected at each floor and is mainly used in mid-rise construction to help prevent shearwall overturning. It also has a tension uptake device to compensate for wood expansion and shrinking. The video shows some installation tips also.
Check back with me next month for update # 2 on the newsletter that I get from Simpson.
If you have any question, or would like to schedule a Deputy Inspection for Epoxy Bolts or Rebar Dowels, Shearwall Nailing, Concrete, Masonry, Shotcrete or more, Please feel free to call or text us anytime at:
(805) 857-7908